Inspired by the movie Fantastic 4 ( Rise
of the Silver Surfer), rich with all motion blur and depth of field
effects. I was fascinated to recreate and render a scene having those
features. And this samples is now what im bringing you, simplifying vray
camera depth of field and motion blur.
Before I go so far, I wish to
provide a diffirence between motion blur and depth of field. Although
its just a simple term, I just want to give some insights for the sake
of the tutorial.
Let us examine an image without depth of field
and motion blur. Its nice but something is missing in the composition -
the action and depths
Depth of Field-
The Depth-of-Field
effect simulates the natural blurring of foreground and background scene
elements when viewed through a camera lens. Depth of Field works by
separating the scene in Z order into foreground, background, and
in-focus images. The foreground and background images are then blurred
according to the values set in the Depth of Field effect parameters and
the final image is composited from the processed originals.
Suppose
there are two or three objects, one on the foreground, at the middle
and on the background. The moment you focused your vision on one of the
objects say on the foreground, the other will then become blurred - this
is what we called the depth of field.
Cameras can generate
depth-of-field effects. Depth of field is a multi-pass effect. You turn
it on in the Parameters rollout for cameras. Depth of field simulates a
camera's depth of field by blurring areas of the frame at a distance
from the camera's focal point . It can be attained at any given time at
any given point.
If you want to follow the tutorial, you can
download the scene / model on this link
max2009_scenefile
max8_scenefile
[/color]
In order to have the
missile smoke trails you must have an Afterburn Plugins. Visit this site
for more info about the plug-ins ]
AFTERBURN
. If you havent this one you might wait for my fire trails tutorials
for soon to be here. After you open the file, adjust the time slider to
frame 66. The image will look like this.
Enlarge
this image
Reduce
this image
Click
to see fullsize
To activate the missile fire trails, press 8
( environment and effects). Go to atmosphere and select Afterburn and
Afterburn Renderer. Then adjust parameters below. Be sure to have your
Afterburn pluginns installed
Enlarge
this image
Reduce
this image
Click
to see fullsize
Making some test render will give you an
image with no depth of field composition. Now let us activate Depth of
Field and focus to Silver Surfer. Select the normal camera on the scene
and adjust the parameters as shown below.
-Enabled Multi-Pass
Effect
-Select depth of Field
-Target Distance at
about 3.5m to 4.0 m
-On depth of Field parameters activate
us Target Distance
-Activate Display Passes
Enlarge
this image
Reduce
this image
Click
to see fullsize
Then on Environment and Effects (F10), go to
effects and select Depth of Field and adjust parameters same below and
make some test render.
Enlarge
this image
Reduce
this image
Click
to see fullsize
If you want to focus on helicopter ( Sorry i
forgot to include the helicopter pilot on the scene), adjust camera
target distance at about 40.0m-42.0 m. Then make a test render. this
will give you an image the same as below
Enlarge
this image
Reduce
this image
Click
to see fullsize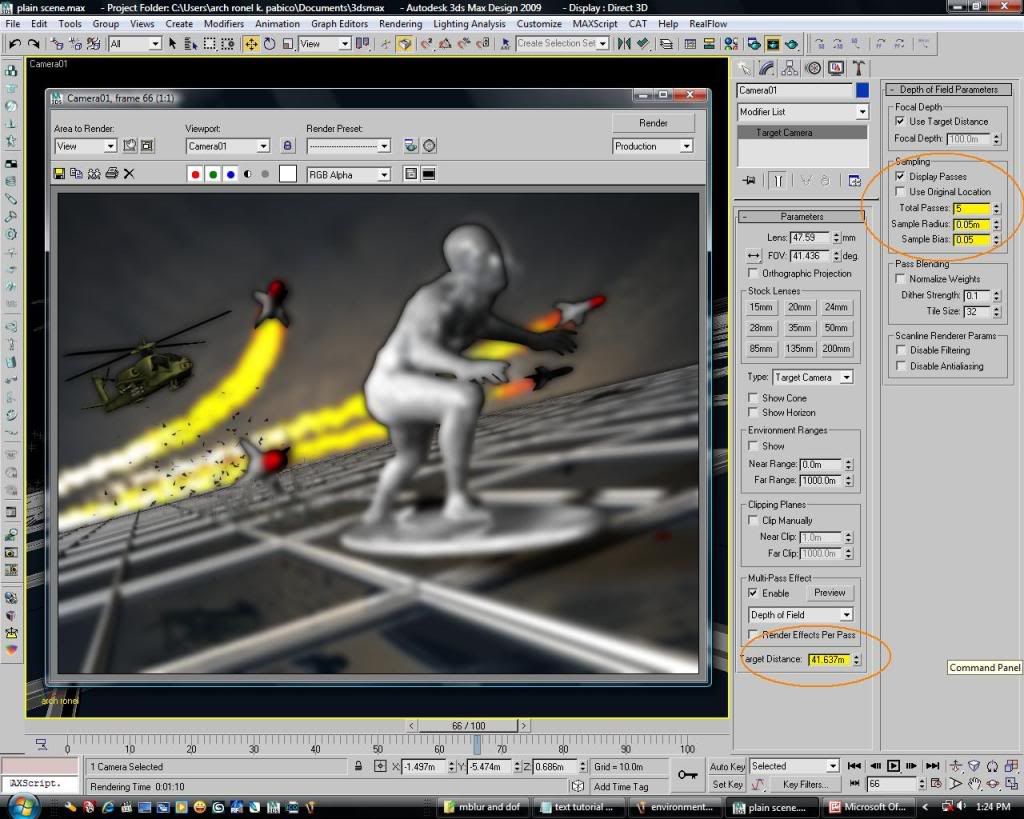 This now conclude the normal camera depth
of Field. Next is the Normal Camera Motion Blur